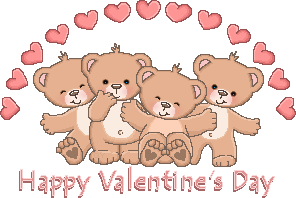 Homeschooled Kids Online
http://www.homeschooled-kids.com
Graphics are NOT public domain and
are not to be taken from this site.

Valentine's Day 2008

View the February Newsletter!
Crafts, Games, Activities, and More!

Be sure and check out our FREE printable Valentine's Day Booklets!

These booklets include wordsearch puzzles, crossword fun, Bible studies and more!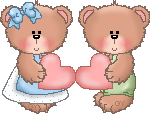 Valentine's Day 2008
Throw A Valentine's Day Party!
A great Valentine's Day party requires 4 major things: festive decorations, yummy party treats, fun activities and games, and a goody bag filled with treats.
Let's start with the decorations!
Using the traditional colors of Valentine's Day, pinks, reds, and white, fill the party site with helium balloons. Hang streamers from the doorways and chandliers. Cover the table with a white or red table cloth and depending on the age of your guests.....line colored votives and candles down the center. Sprinkle confetti, tiny candies etc. over the table for an extra sweet touch.

Use our Heart Template to help create festive decorations!

Suprise your party guests with secret hearts! Hide candy hearts wrapped in wrap with festive bows everywhere!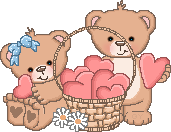 Party Treats!
You can't miss with heart shaped party treats. Cut out heart sandwiches, peanut butter and jelly, cream cheese, jello jigglers, etc.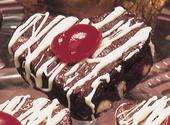 A YUMMY treat - Cherry White Chip Brownies - from Hersheys
Ingredients:
1/2 cup chopped maraschino cherries, well drained
1/3 cup butter or margarine, softened
3/4 cup sugar
2 eggs
2 tablespoons light corn syrup
1 tablespoon kirsch (cherry brandy) or 1 teaspoon vanilla extract and 1 teaspoon almond extract
2/3 cup all-purpose flour
1/3 cup HERSHEY'S SPECIAL DARK Cocoa or HERSHEY'S Cocoa
1/4 teaspoon baking powder
1 cup HERSHEY'S Premier White Chips
1/3 cup chopped slivered almonds
WHITE CHIP DRIZZLE(recipe follows, optional)
Maraschino cherry halves, well drained (optional)

Directions:

1. Heat oven to 350°F. Line 8-or 9-inch square baking pan with foil, extending foil over edges of pan. Grease and flour foil.

2. Pat chopped cherries between layers of paper towels to remove excess moisture. Beat butter, sugar, eggs, corn syrup and brandy in medium bowl until well blended. Add flour, cocoa and baking powder to butter mixture, beating until blended. Stir in chopped cherries, almonds and white chips. Pour batter into prepared pan.

3. Bake 25 to 30 minutes or until brownies begin to pull away from sides of pan. Cool completely in pan on wire rack. Cover; refrigerate until firm.

4. Use foil to lift brownies out of pan; peel off foil. Cut brownies into shapes with cookie cutters or cut into squares. Garnish with WHITE CHIP DRIZZLE and maraschino cherry halves, if desired. Refrigerate until drizzle is firm; refrigerate leftover brownies. About 16 brownies.

WHITE CHIP DRIZZLE: Place 2/3 cup HERSHEY'S Premier White Chips and 1 teaspoon shortening (do not use butter, margarine, spread or oil) in small microwave-safe bowl. Microwave at HIGH (100%) 30 seconds: stir. If necessary, microwave at HIGH additional 15 seconds until chips are melted when stirred. Using tines of fork, drizzle across brownies.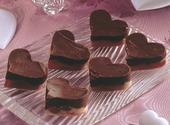 Kids will LOVE - Here's My Heart Fudge - from Hersheys
Ingredients:

2 cups (12-oz. pkg.) HERSHEY'S Premier White Chips, divided
1 teaspoon almond extract
1/2 cup HERSHEY'S Cocoa or HERSHEY'S SPECIAL DARK Cocoa
1/4 cup (1/2 stick) butter or margarine, melted
1 teaspoon vanilla extract
4-1/2 cups sugar
1 jar (7 oz.) marshmallow creme
1-1/2 cups (12-oz. can) evaporated milk
1/4 cup (1/2 stick) butter or margarine
1 cup candied red cherries, quartered
Few drops red food color(optional)

Directions:

1. Line 13x9x2-inch pan with foil.

2. Place 1 cup white chips and almond extract in medium bowl. In second medium bowl, stir together cocoa, 1/4 cup melted butter and vanilla extract until mixture is smooth; add remaining 1 cup white chips (chips do not need to melt).

3. Combine sugar, marshmallow creme, evaporated milk and 1/4 cup butter in heavy 4-quart saucepan. Cook over medium heat, stirring constantly, until mixture comes to full rolling boil (bubbles can't be stirred down); continue boiling and stirring 5 minutes. Remove from heat. Immediately add half of hot mixture to bowl with white chips only. Pour remainder into cocoa mixture; stir to blend.

4. Beat white chip mixture until chips are completely melted; stir in cherries. Add red food color, if desired. Spread evenly in prepared pan. Beat cocoa mixture until chips are melted and mixture thickens slightly. Spread evenly over top of white chip layer.

5. Cover; refrigerate until firm. Remove from pan; peel off foil. Cut with heart-shaped cookie cutters or cut into squares. Cover; store in refrigerator. About 8 dozen squares.

NOTE: For best results, do not double this recipe.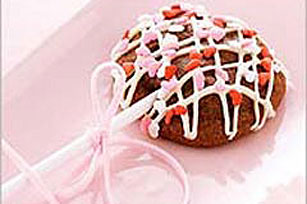 Fun to Make...Fun to Eat! - Sweetheart Chocolate Lollipops - from Kraft
Ingredients:
4 squares BAKER'S Unsweetened Baking Chocolate
3/4 cup (1-1/2 sticks) butter
2 cups sugar
3 eggs
1 tsp. vanilla
2 cups flour
4 squares BAKER'S Premium White Baking Chocolate, melted
Assorted Valentine sprinkles
PREHEAT oven to 350°F.
Microwave chocolate and butter in large microwaveable bowl on HIGH 2 min. or until butter is melted. Stir until chocolate is completely melted and mixture is well blended. Add sugar; mix well. Blend in eggs and vanilla. Add flour; mix well. Cover. Refrigerate 1 hour or until dough is stiff.
SHAPE dough into 2-inch balls; insert lollipop stick into each ball. Place, 2 inches apart, on greased baking sheets.
BAKE 8 min. or just until set. (Do not overbake.) Let stand on baking sheet 1 min.; transfer to wire racks. Cool completely. Drizzle with chocolate; decorate with sprinkles. Let stand until chocolate is firm.
Adorable Treat...A Sure Favorite! - Cupid's Cups - from Kraft
Ingredients:
1 square BAKER'S Semi-Sweet Baking Chocolate,melted
2 cups boiling water, divided
2 pkg. (4-serving size each) JELL-O Brand Strawberry Flavor Gelatin
1-1/2 cups cold water, divided
ice cubes
1 cup thawed COOL WHIP Whipped Topping
Assorted Valentine sprinkles and candies
DRAW a heart design or write a Valentine's Day message in each of eight (6-oz.) clear plastic cups by piping melted chocolate onto inside of each cup. Refrigerate until chocolate is firm.
STIR 1 cup of the boiling water into 1 pkg. of the dry gelatin mix in medium bowl at least 2 min. until completely dissolved. Stir in 1 cup cold water; pour evenly into prepared cups. Refrigerate 1 hour or until gelatin is firm.
MEANWHILE, stir remaining 1 cup boiling water into remaining package of dry gelatin mix in medium bowl at least 2 min. until completely dissolved. Add enough ice to remaining 1/2 cup cold water to measure 1 cup. Add to gelatin; stir until thickened. Stir in whipped topping with wire whisk until well blended. Spoon into prepared cups. Refrigerate 3 hours or until firm. Decorate with sprinkles. Store leftover desserts in refrigerator.

Valentine's Day Pink Punch
INGREDIENTS
4 liters cranberry ginger ale
1 gallon raspberry sherbet
DIRECTIONS
In a large punch bowl, pour 2 liters chilled cranberry ginger ale. Next scoop raspberry sherbet into bowl. Then pour the other 2 liters of chilled cranberry ginger ale over sherbet. Serve.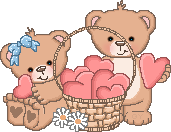 Roses Are Red

Roses are Red
Violets are Blue
Carnations are Sweet
And so are You.

And so are They
That send you This
And when we Meet
We'll have a Kiss
Valentine's Day
Craft Ideas
Check out these craft ideas! Your party guest will love creating these Valentine's Day masterpieces!

Buy the materials beforehand and have a table assembled and ready for the little crafters.

Plan on crafting early in the party to allow time for drying.
Enjoy!
Party Fun And Games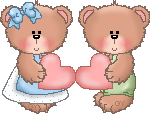 Our Selection of Valentine's Day Printables
Heart Template
- Cut out heart shapes to help with your decorating!
Valentine's Day Wordsearch - Fun!
No Greater Love Booklet - Christian (Cover)
No Greater Love Booklet - Page 1
No Greater Love Booklet - Page 2
No Greater Love Booklet - Word Search
Here are a few ideas to keep your party guest entertained.
This idea comes from Family Fun: The Steal My Heart Game
Fill a large bowl with small candies. Give each person a set of chopsticks. Set a timer and the person who retrieves the most candy out of the bowl wins. Be sure and award a cute prize ;-)
Valentine's Day Charades
With older kids, you can play Valentine's Day charades where the guest try and guess famous love scenes from the movies.
Valentine's Day Word Games
Give each guest a piece of paper. See who can form the most words out of Happy Valentine's Day
Count The Kisses
Fill a large see through container with kisses. (COUNT THEM) The guest who guesses closest to the true amount wins the contents!

Subscribe to the Online Version of our Newsletter and receive a copy delivered to your e-mail box.... FREE!
Your privacy is very important to us here at Homeschooled Kids Online and your e-mail/information will NEVER be shared in any form with ANYONE!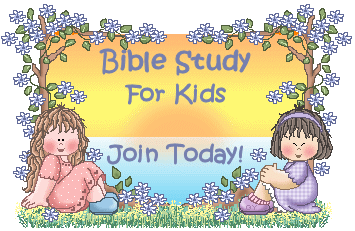 Join Our Bible Study!

View a Sample Bible Study!

The Bible studies are FREE and are ongoing.