Welcome to
Homeschooled Kids Online


Homeschooled Kids Online is a site designed for the family that educates at home. Homeschoolers, their families, christian educators, and those who love children will find resources designed just for them at www.homeschooled-kids.com.

Home
Holiday Fun
Printable Activities
Monthly Ezine
Subscribe
About Us
Contact Me
What's New

New Homeschoolers
Holiday Units
Suggested Reading
Newsletters For Kids
Homeschool Resources
Homeschool Ezine
Discussion Boards

Forums
Monthly Magazine
Get The Newsletter
Contact Me

Forums
Get The Newsletter
Contact Me

Poll Coming Soon

Check out
Homeschooled Kids Online Monthly Magazine!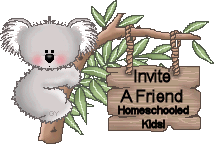 Invite A Friend To Visit Homeschooled Kids Online

Advertise
with
Homeschooled Kids Online

Help us make
our site better.
Take our quick survey.
Click Here
Bookmark
Homeschooled Kids!
Make us a favorite
View Our
Privacy Statement

Cute Girl Graphic Featured
At Top of Page
downloaded from
The Doll Palace