Party Central
<![if !vml]>

<![endif]>What first? <![if !vml]>

<![endif]>
Decisions Decisions Decisions! The first thing to decide is what type party you want to have. There are so many options! For smaller kids, you might want to have a shorter party and set the clock ahead for an earlier celebration.
If your party is for older kids, you might want to consider a slumber party. If you opt to end the party about an hour after midnight, then make sure you have arrangements lined up for transportation for the kids.
<![if !vml]>

<![endif]>Party Themes <![if !vml]>

<![endif]>
A really cool idea for a New Year's Eve party is a slumber party. Have your guests arrive in their p.j.s with sleeping bags. You can base the entire party theme around this concept.
It is also very fun to dress up for the event. Put on your best party attire and ring in the new year. Tuxedo themed party invites are a really cute way to let your guest know about your party.
Really small kids LOVE LOVE LOVE a "Teddy Bear" themed party. Have each guest bring their favorite stuffed friend with them and be sure and include their little friends in party games and festivities.
Older kids will appreciate the cool factor of a "Black White" themed party. Inform your guests that their party attire should consist of black/white. Decorate in a very sophisticated black white decor.
| | | | |
| --- | --- | --- | --- |
| <![if !vml]><![endif]> | <![if !vml]><![endif]>Sparkle Invitation | <![if !vml]><![endif]> | <![if !vml]><![endif]> |
Here are a few party invite suggestions for older kids.
| | | |
| --- | --- | --- |
| <![if !vml]><![endif]> | <![if !vml]><![endif]> | <![if !vml]><![endif]> |
<![if !vml]>

<![endif]>Party Decorations <![if !vml]>

<![endif]>
No party is complete without decorations and you have so many options to create a spectacular New Year's Blast!
Once again, DECISIONS DECISIONS DECISIONS! Do you want to buy pre-made decorations, make them yourself, or do a combination of the two?
If you're feeling CrAfTy
Start with CANDLES!!!! Nothing sets the mood quite like candles. Of course if you are planning the party for very young children, you will probably want to reconsider.
A really simple craft....... using small clear votive candle holders, glue and glitter.
Roll the holder in CLEAR glue and then in the glitter. Place votive candle inside and VOILA!
You can also use baby food jars, tissue paper etc. Be creative!
Make your own noisemakers!
You can't ring in the New Year without the proper equipment! It is so easy to make your own noisemakers and little party goers will enjoy this activity. With a couple of paper plates, decorative items (glue, glitter, markers, stickers, crayons, yarn, etc.), dried beans, craft sticks, tape and a stapler.
Have your crafters decorate their plates (the bottom side) in a festive manner. Put one plate bottom side down and tape a craft stick with half of the stick hanging out of the plate. Place the other plate (top side) down on top of the other plate. Staple the edges together leaving room to place your beans inside. Continue stapling to seal the beans inside. You're done!
Another variation from Childfun:
http://www.childfun.com/modules.php?name=News&file=article&sid=406
<![if !vml]>

<![endif]>
Party Hats
Looking for another fun craft idea?. let your guests make their own party hats for the celebration!
Kaboose has a cute party hat craft complete with a pattern.
http://crafts.kaboose.com/paper-party-hat.html
Enchanted Learning has a very cute New Year's Eve Peace Dove craft also with a pattern!
http://www.enchantedlearning.com/crafts/newyear/dove/
Resolution Solution! A really cute idea: The Resolution Magnet will help you and your family remember those New Year's resolutions J
<![if !vml]>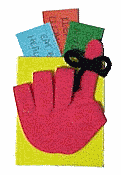 <![endif]>
http://www.childfun.com/modules.php?name=News&file=article&sid=407
The New Year's Eve Countdown Box is a craft that you create ahead of time for your guests to enjoy. Older kids will really enjoy this as well as younger partygoers.
<![if !vml]>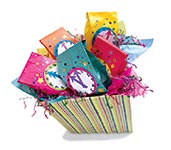 <![endif]>
You fill little gift bags with small party favors. At the top of each hour (set your alarm to ring) your guests get to open a new bag (marked with the clock on the bag)!!!!
Instructions at: Family Fun
Want to party but not the CrAfTy type?
You can buy everything you need to create a very festive party. Balloons both latex and mylar filled with helium are the perfect touch for your occasion. For older kids, buy black, white, or silver for a more sophisticated look.
Streamers, confetti, party hats, noise makers are all easily found in your neighborhood party store.
Be sure and pick a theme for your party and then decorate accordingly. For example, if your party is for younger kids celebrating with their furry friends, use teddy bear decor. Older kids love strobe lights and anything glow in the dark.
Tiaras and whistles
Alarm clocks
Disposable cameras
<![if !vml]>

<![endif]>Party Food <![if !vml]>

<![endif]>
You can't have a party without food! Considering the age of your party guests, you need to plan ahead and have plenty of snack foods on hand.
If your party is a sleepover, don't forget breakfast. Keep it simple with pastries, juice, cereals etc.
<![if !vml]><![endif]>

The recipe for this adorable and yummy confetti cake can be found at:

<![if !vml]><![endif]>

Bubbly Jello Parfaits Recipe at:

<![if !vml]><![endif]>

Cute Edible Party Hats Recipe at:
<![if !vml]>
<![endif]>
Recipe Suggestions
<![if !vml]>

<![endif]>Chicken fingers <![if !vml]>

<![endif]>
(frozen) served with honey mustard, bbq sauce, and ketchup
<![if !vml]>

<![endif]>Pigs in a blanket <![if !vml]>

<![endif]>
Hot Dog Wieners
Slices American Cheese
Refrigerated Biscuit Dough or crescent rolls
Preheat oven to 350 degrees.
Cut hot dogs in half
Wrap cheese around each hot dog half and then wrap with dough.
Place crease side down and bake for about 10-15 minutes.
<![if !vml]>

<![endif]>Mini Pizzas <![if !vml]>

<![endif]>
Serves about 10 partygoers
1 c. shredded cheddar
1 c. shredded mozzarella cheese
Packaged pepperoni
Pizza sauce
English Muffins
Parmesean Cheese
Decorate your split muffin with the toppings. Place on ungreased baking sheet and bake for 350 degrees F for about 15/20 minutes or until cheese is melted.
<![if !vml]>

<![endif]>Party Mix <![if !vml]>

<![endif]>
1 Batch
4 c Chex cereal
c Dried Fruit Bits
c raisins
c peanuts
c reeses pieces
Put in large Ziploc and shake!
<![if !vml]>

<![endif]>Popcorn <![if !vml]>

<![endif]>
Pop several bags of microwave popcorn. Have on hand cheddar cheese powder, parmesean, powdered butter etc. to spice up this fun treat!
<![if !vml]>

<![endif]>Sandwiches <![if !vml]>

<![endif]>
If you are short on time, pick up deli sandwiches from your grocery store or your local Subway.
Another cute idea.....
PB & J cut with star cookie cutters
OR?
Have a sandwich assembly line with different breads, spreads, cheeses and deli meats.
<![if !vml]>

<![endif]>Dips & Spreads <![if !vml]>

<![endif]>
Strawberry Fruit Dip
1 8 oz package strawberry flavored cream cheese
1 7 oz jar marshmallow cream
In a medium bowl, mix the cheese and cream together until blended. Refrigerate at least an hour before serving. Serve with apple pieces, strawberries, grapes or pineapple.
Spinach Dip
1 10 oz package frozen chopped spinach, thawed and drained
1 8 oz container sour cream
1 c mayo
1 .4 oz package dry veggie soup mix
In a medium bowl, combine spinach, sour cream, mayo, and soup mix. Mix together and refrigerate at least 3 hours before serving.
Serve with chips! YUMMMMMYYYY
Layer Mexican Dip
1 9 oz. can bean dip
1 6 oz container guacamole
12 oz sour cream
1 (1 oz) package taco seasoning mix
1 (8 oz) package shredded cheddar cheese
1 tomato chopped
In a pretty festive dish, spread a layer of bean dip. Top the bean dip with a layer of guacamole.
Combine sour cream and taco mix. Spread a layer of this mixture over the guacamole. Top with sour cream. Garnish with tomatoes and serve with tortilla chips!
Desserts & Beverages
Ginger Ale Punch
Serves about 40 cups..
2 (2 liter) bottles ginger ale chilled
1 (46 fluid ounce) can pineapple juice chilled
1 (64 fluid ounce) bottle white grape juice chilled
Make your ice ring. Fill a ring shaped cake pan halfway full with ginger ale. Freeze until almost frozen. Place pieces of fruit around the ring. Fill pan with ginger ale and freeze until solid. Place in punch bowl just before serving.
In a large punch bowl, combine 1 bottle ginger ale, pineapple juice and white grape juice.
Candy Cane Hot Chocolate
Serves 8
8 cups milk
6 (1 ounce) squares semisweet chocolate chopped
8 peppermint candy canes crushed
2 cups whipped cream
8 small candy canes
In a large pan, heat milk until hot NOT boiling. Whisk in the chocolate and crushed candies until melted and smooth. Pour hot cocoa into mugs and garnish with whipped cream. Serve with a candy cane stirring stick.
Dessert Bar
Ice cream bowls, small dessert plates, ice-cream, toppings for ice-cream sprinkles, marshmallows, nuts, sauces, etc. cookies, brownies, fudge, fruit, whipped cream,
<![if !vml]>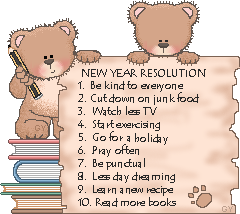 <![endif]>
<![if !vml]>

<![endif]>Games & Activities <![if !vml]>

<![endif]>
Make A Time Capsule
Decorate a container (tennis ball can, coffee can, etc.) with glue, stickers, tissue paper, markers or whatever.
Have your guests bring with them photos, mementos, ticket stubs, news, etc. Be sure and label your capsule with the date.
Board Games
Have a board game tournament. Post a draw sheet and award the winner!
Parlor games charades and others
http://www.party411.com/gameguide.html
Guess the Month Game
Go through news archives magazines, the web and take note of major events from the past year. List the events on index cards and turn them into questions. EX: In what month did the super bowl take place?
Have a prize for the winner.
Guess Whose Resolution
Have each guest write down 4 or 5 resolutions each on a separate piece of paper. Put all the resolutions in a bag. One at a time, read the resolution. Everyone will write down who they think wrote the resolution SILENTLY. At the end, the person with the most correct guesses wins the prize!
<![if !vml]>

<![endif]>The Big Moment <![if !vml]>

<![endif]>
When the big moment arrives, be prepared! Have your noisemakers, pinatas, confetti, party hats, ginger ale, poppers all in hand!
For little kids, set the clock ahead and celebrate "midnight" a little earlier.
<![if !vml]>

<![endif]>The Sendoff <![if !vml]>

<![endif]>
If your party is not an overnighter, then send your guest home around 1AM with party bags filled with goodies for the new year.
If your party is an overnighter, bring in the new year with a celebratory brunch. Send your guests home with party bags or a decorated pillow case that your guests can make the night before.