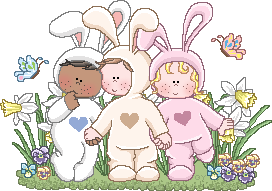 Homeschooled Kids Online
http://www.homeschooled-kids.com
Graphics are NOT public domain and
are not to be taken from this site.
Easter 2008
Homeschooled Kids Newsletter - March 2008

Crafts, Games, Activities, and More!


March Newsletter For Kids
Spring is coming!!! The first official day of spring is March 20, 2008 and is also known as the Vernal Equinox. At 1:48 A.M. EDT, the sun will cross over the equator and this marks the beginning of spring in the Northern Hemisphere. If you live in the Southern Hemisphere, this is the beginning of the autumnal equinox for you.

The Sun is at its lowest path in the sky on the Winter Solstice. After that day the Sun follows a higher and higher path through the sky each day until it is in the sky for exactly 12 hours. On the Spring Equinox the Sun rises exactly in the east travels through the sky for 12 hours and sets exactly in the west. On the Equinox this is the motion of the Sun through the sky for everyone on earth. Every place on earth experiences a 12 hours day twice a year on the Spring and Fall Equinox. (From the Spring Equinox Site)

Psalm 104:19 "The moon marks off the seasons, and the sun knows when to go down."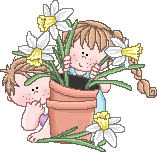 The Month of March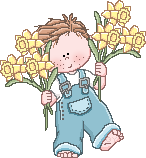 "The March wind roars
Like a lion in the sky,
And makes us shiver
As he passes by.

When winds are soft,
And the days are warm and clear,
Just like a gentle lamb,
Then spring is here."
- Author Unknown


March is the third month of the year in the Gregorian Calendar and one of seven months with a length of 31 days.

March in the Southern Hemisphere is the seasonal equivalent of September in the Northern Hemisphere.

The name of March comes from ancient Rome, when March was the first month of the year and called Martius after Mars, the Roman god of war. In Rome, where the climate is Mediterranean, March is the first month of spring, a logical point for the beginning of the year as well as the start of the military campaign season. The numbered year began on March 1 in Russia until the end of the fifteenth century. Great Britain and her colonies continued to use March 25 until 1752, the same year they finally adopted the Gregorian calendar. Many other cultures and religions still celebrate the beginning of the New Year in March. from Wikipedia



Psalm 104:19 "The moon marks off the seasons, and the sun knows when to go down."
Special Days in March
February 6, 2008 - Ash Wednesday
February 6 - March 22, 2008 - Season of Lent
Mar. 13, 1781 - The Discovery of Uranus
Mar. 14, 1879 - Albert Einstein's birthday
March 16, 2008 - Palm Sunday
March 17, 2008 - St. Patrick's Day
March 21, 2008 - First Day of Spring (Vernal Equinox)
March 21, 2008 - Good Friday
March 23, 2008 - Easter Sunday

March
M is for Maundy Thursday.
or the Messiah
A is for the ascension.
R is for the Resurrection!
C is for the cross.
H is for heaven!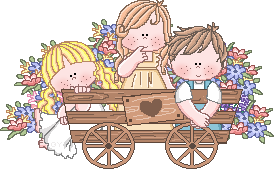 A Light Exists in Spring

~Emily Dickinson

A Light exists in Spring
Not present on the Year
At any other period --
When March is scarcely here

A Color stands abroad
On Solitary Fields
That Science cannot overtake
But Human Nature feels.

It waits upon the Lawn,
It shows the furthest Tree
Upon the furthest Slope you know
It almost speaks to you.

Then as Horizons step
Or Noons report away
Without the Formula of sound
It passes and we stay --

A quality of loss
Affecting our Content
As Trade had suddenly encroached
Upon a Sacrament.


Spring Cleaning Time!

It is time to start your spring cleaning! Spring cleaning usually refers to the annual cleaning of a house from the top to the bottom.

Some believe that the tradition of spring cleaning originated from the Israelite's practice of cleaning their home in anticipation of Passover. In remembrance of the Israelite's exodus from Egypt, Jewish people are prohibited from eating anything that has not been leavened during the 8 day holiday. They are to clean their homes of any remnants of leavened foods in addition to this.

Why not surprise your Mom and Dad and do a surprise spring cleaning of your own! It is really simple! To clean your room, start by clearing out any trash, then collect any laundry from your room, pick up toys and put them in their proper place, change your bed linens and make your bed, dust your shelves and lamps. Last, run a vacuum over your floor and you're done!


Spring Cleaning For the Soul
Houses aren't the only things that need a good spring cleaning. Our souls can also use a good cleansing! Just like messy bedrooms, our hearts can get cluttered with things that shouldn't be there. As we go through our days, we are exposed to many images, thoughts and ideas that aren't Christ like. Television shows, music and movies are just a few of the ways that our thoughts can become cluttered.

Romans 12 Living Sacrifices 1Therefore, I urge you, brothers, in view of God's mercy, to offer your bodies as living sacrifices, holy and pleasing to God—this is your spiritual[a] act of worship. 2Do not conform any longer to the pattern of this world, but be transformed by the renewing of your mind. Then you will be able to test and approve what God's will is—his good, pleasing and perfect will.

God asks us as Christians to NOT conform to this world. We are to be set apart and easily recognized as believers of Christ. We may think that we are able to be "in this world" and believe that we are able to watch certain t.v. shows, movies etc. and not be affected but this isn't true. We ARE vulnerable! We can be influenced by negative and un-Christ like images. It happens slowly sometimes. Little by little, we allow more and more unacceptable things into our lives. Before we know it, our thoughts and hearts are cluttered with things that aren't Godly.

When all your friends are watching certain movies and listening to certain music, it can be very difficult to stand alone. God gives you the strength to be firm in your beliefs. God will reward you for your faithfulness. Even if EVERY other kid in the WHOLE WIDE WORLD thinks that you are wrong and that it is ok to do as they do, you stand strong!

Spring is a time of new beginnings and rebirth. It is the season that we celebrate our Lord's resurrection! Spring is a time to spring clean our hearts and souls! Make a promise to God that you will stay away from tv shows, movies, music or friends that aren't respectful of God. Sweep out the cobwebs of your soul and allow God to fill you with new blessings this spring.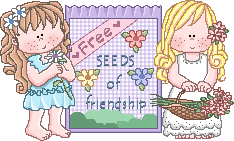 Spring Crafts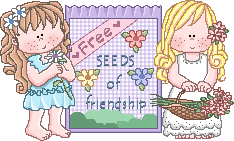 Easter Coloring Pictures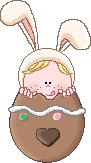 Springtime Snacks

Butterfly Cake - from Family Fun

RECIPE INGREDIENTS:

1 baked 8-or-9-inch round cake
2 cups chocolate frosting
1 cup yellow frosting
1 Twinkie
Jelly fruit slices
Assorted candies
Red string licorice

Directions:

1. Cut the cake in half, then arrange and frost as shown.
2. Frost the Twinkie and place it between the wings for the butterfly's body. Decorate the wings with candies, adding licorice antennae.

Frozen Fruit Popsicles
Ingredients:

3 cups grape juice or fruit punch
1 14 oz. can sweetened condensed milk
1/4 cup lemon juice
12 3 oz. paper cups
12 wooden sticks

Directions:

Mix together juices and condensed milk with a whisk. Put mix into a container with a pouring spout. Put paper cups into a square pan and fill the cups almost to the top.

Put into the freezer for about one hour.

After 1 hour, remove the cups and place a wooden stick into the popsicles. Return to the freezer for around 6 hours or so. To serve, peel off the paper cup and YUM!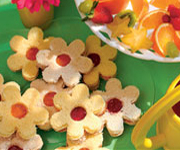 Spring Flower Peanut Butter & Jelly Sandwiches
Ingredients:

Bread
Peanut Butter or Cream Cheese
Jelly or Jam
Water bottle cap
Flower Cookie Cutter

Directions:

For each sandwich, cut 2 slices of bread into flower shapes with a cookie cutter.

Cut a hole in one of the slices by pressing a water bottle cap into the center.

Spread the peanut butter and jelly on the whole piece and place the slice with the hole on top.


Springtime Lemonade
Ingredients:

2 Cups Sugar
1/2 Cup Sugar
3/4 cup freshly squeezed lemon juice
2 tsp. maraschino cherry juice
Directions:

Stir all the ingredients in a pitcher.

Pour into tall glasses filled with ice cubes or crushed ice. For a sweeter pink lemonade, stir in maraschino cherry juice.

For a sweeter pink lemonade, stir in maraschino cherry juice. This summer classic can also be frozen into ice pops or mixed with other fruit juices, such as orange, pineapple, and white grape.


Fruit Kebobs
Ingredients:

Pineapple Chunks (Fresh or Canned)
Melon Balls
Strawberries, Blackberries or Blueberries
Cherries

Directions:

Use bamboo skewers and stack up a delicious fruit snack!


Easter Cookies - With A Message

Ingredients:

1 cup Whole Pecans
1 teaspoon vinegar
3 Egg Whites
Pinch of Salt
1 Cup Sugar
1 Large Ziploc Bag
Wooden Spoon
Mixing Bowl
cookie sheet
wax paper
Tape
Bible

Directions:

Preheat the oven to 300 degrees.

1. Place the pecans in the baggie and let the kids beat them with the wooden spoon to break them into pieces. Explain that after Jesus was arrested, He was beaten by the Roman soldiers.

Read John 19:1-3

Jesus Sentenced to be Crucified

(John 19: 1-3) - Then Pilate took Jesus and had him flogged. 2 The soldiers twisted together a crown of thorns and put it on his head. They clothed him in a purple robe 3 and went up to him again and again, saying, "Hail, king of the Jews!" And they struck him in the face.

2. Put the vinegar into a mixing bowl. Let each child smell the vinegar. Explain that when Jesus was on the cross and he became thirsty, He was offered vinegar to drink.

Read John 19:28-30

The Death of Jesus

(John 19: 28-30) Later, knowing that all was now completed, and so that the Scripture would be fulfilled, Jesus said, "I am thirsty." A jar of wine vinegar was there, so they soaked a sponge in it, put the sponge on a stalk of the hyssop plant, and lifted it to Jesus' lips. 30 When he had received the drink, Jesus said, "It is finished." With that, he bowed his head and gave up his spirit.

3. Add the egg whites to the vinegar. The eggs represent life. Explain that Jesus gave His life so that we could have life.

Read John 10:10-11

(John 10: 10-11) The thief comes only to steal and kill and destroy; I have come that they may have life, and have it to the full. 11 "I am the good shepherd. The good shepherd lays down his life for the sheep.

4. Sprinkle a little salt into each child's hand and let them taste it. Put the rest into the bowl. Explain that this represents the salty tears shed by Jesus' followers, and the bitterness of our own sin.

Read Luke 23:27

(Luke 23: 27) A large number of people followed him, including women who mourned and wailed for him.

5. So far the ingredients are not very appetizing. Add 1 cup of sugar. Explain that the sweetest part of the story ids that Jesus died because He loves us. He wants us to know and belong to Him.

Read Psalm 34:8 and John 3:16

(Psalm 34: 8) Taste and see that the LORD is good; blessed is the man who takes refuge in him.

(John 3: 16) For God so loved the world that he gave his one and only Son, that whoever believes in him shall not perish but have eternal life.

6. Beat the egg whites with a mixer on high speed for 12 to 15 minutes, until stiff peaks form. Explain that the color white represents the purity in god's eyes of those whose sins have been cleansed by Jesus.

Read Isa. 1:18 and John 3:1-3

(Isaiah 1:18) Come now, let us reason together,"
says the LORD.
"Though your sins are like scarlet,
they shall be as white as snow;
though they are red as crimson,
they shall be like wool

(John 3: 1-3) Now there was a man of the Pharisees named Nicodemus, a member of the Jewish ruling council. 2 He came to Jesus at night and said, "Rabbi, we know you are a teacher who has come from God. For no one could perform the miraculous signs you are doing if God were not with him." 3 In reply Jesus declared, "I tell you the truth, no one can see the kingdom of God unless he is born again

7. Fold in the broken nuts. Drop by teaspoons onto a wax paper cookie sheet. Explain that each mound represents the rocky tomb where Jesus body was laid to rest.

Read Matt. 27:57-60

(Matthew 27: 57-60) As evening approached, there came a rich man from Arimathea, named Joseph, who had himself become a disciple of Jesus. 58 Going to Pilate, he asked for Jesus' body, and Pilate ordered that it be given to him. 59 Joseph took the body, wrapped it in a clean linen cloth, 60 and placed it in his own new tomb that he had cut out of the rock. He rolled a big stone in front of the entrance to the tomb and went away.

8. Put the cookie sheet in the oven, close the door and turn the oven off.

9. Give each child a piece of tape and seal the door. Explain that Jesus tomb was sealed.

Read Matt. 27:65-66

(Matthew 27: 65-66) Take a guard," Pilate answered. "Go, make the tomb as secure as you know how." 66 So they went and made the tomb secure by putting a seal on the stone and posting the guard.

10. Go to bed. Explain that they may feel sad to leave the cookies in the oven overnight and that Jesus followers were in despair when the tomb was sealed.

Read John 16:20-22

(John 16: 20-22) I tell you the truth, you will weep and mourn while the world rejoices. You will grieve, but your grief will turn to joy. 21 A woman giving birth to a child has pain because her time has come; but when her baby is born she forgets the anguish because of her joy that a child is born into the world. 22 So with you: Now is your time of grief, but I will see you again and you will rejoice, and no one will take away your joy.

11. On Easter morning, open the oven and give everyone a cookie. Notice the cracked surface and take a bite. the cookies are hollow! ON THE FIRST EASTER Jesus followers were amazed to find His tomb empty.

Read Matt. 28: 1-9

(Matthew 28: 1-9) After the Sabbath, at dawn on the first day of the week, Mary Magdalene and the other Mary went to look at the tomb. 2 There was a violent earthquake, for an angel of the Lord came down from heaven and, going to the tomb, rolled back the stone and sat on it. 3 His appearance was like lightning, and his clothes were white as snow. 4 The guards were so afraid of him that they shook and became like dead men. 5 The angel said to the women, "Do not be afraid, for I know that you are looking for Jesus, who was crucified. 6 He is not here; he has risen, just as he said. Come and see the place where he lay. 7 Then go quickly and tell his disciples: 'He has risen from the dead and is going ahead of you into Galilee. There you will see him.' Now I have told you." 8 So the women hurried away from the tomb, afraid yet filled with joy, and ran to tell his disciples. 9 Suddenly Jesus met them. "Greetings," he said. They came to him, clasped his feet and worshiped him.



Jelly Bean Prayer - Poem
written by Charlene Dickerson

Red is for the blood He gave.
Green is for the grass He made.
Yellow is for the sun so bright.
Orange is for the edge of night.
Black is for the sins we made.
White is for the grace He gave.
Purple is for His hour of sorrow.
Pink is for our new tomorrow.
An egg full of jelly beans, Colorful and Sweet
Is a prayer, a promise, A loved one's treat!!

Charlene Dickensen, 1997

Fill a jar with jelly beans and share this poem with your friends!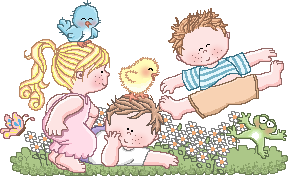 Daylight Time begins on March 9th....don't forget to move your clocks forward 1 hour!